Milestone achievement in North-East Agriculture: 3F Oil Palm Collaborates with Assam Government for the Inaugural Oil Plantation in the state
Asom Khobor Digital Desk Lakhimpur, June 7, 2023: 3F Oil Palm, the country's biggest end to end Oil Palm Plantation and Processing company, in association with the State Government of Assam today organized a momentous ceremonial plantation of Oil Palm under the National Mission on Edible Oil – Oil Palm (NMEO-OP) , at Bokanala, Baginadi Block, Lakhimpur in the presence of Shri Atul Bora, Hon'ble Minister of Agriculture and Horticulture, Assam marking the commencement of Oil Palm Development and emphasizing government's and company's commitment to promoting agricultural development in the North East region.
The Department of Agriculture of Assam, the District Administration, Lakhimpur, and 3F Oil Palm mark the first Oil Palm Plantation under the NMEO-OP in Assam. The initiative aims to uplift farming communities and contribute to India's self-reliance in edible oils. It emphasizes the government's commitment to the development and progress of the Oil Palm Plantation sector.
The ceremony is being hosted by 3F Oil Palm, a leading player in the Oil Palm industry, that has already established a state-of-the-art oil palm nursery at Bokulbari village in Lakhimpur district and another nursery in the pipeline at Chirang. In recognition of their commitment towards Oil Palm development and processing industry, 3F Oil Palm has already signed an MOU with the Government of Assam in December 2022 and aims to develop Oil Palm plantations and processing facilities in sub-zone 1-b and V-a, encompassing Lakhimpur and Chirang districts, as part of the NMEO-OP.
Speaking on the occasion, Mr. Sanjay Goenka, Managing Director and CEO, 3F Oil Palm, expressed his enthusiasm for this momentous occasion and said "The ceremonial plantation of Oil Palm under the NMEO-OP is a significant step towards the development of the Oil Palm industry in the state of Assam. It gives me immense pride to note that upon signing of the MoU with the government in December 2022, we are the first company to have commenced our investment and set up a state of the art nursery and commence plantation activities through this ceremonial plantation. We are committed in contributing to the progress of this sector in Assam and we aim to cover over 20,000 Ha of area under Oil Palm over the next 5 years".
3F Oil Palm has ambitious plans to develop 23,500 hectares of Oil Palm plantations over the next five years. In addition to nursery and plantation activities, the company is actively seeking a suitable parcel of land for set up of a greenfield processing plant, further enhancing the value chain and contributing to the overall growth of the sector and revolutionizing the agricultural landscape of North East region. The company already has an upcoming greenfield integrated Oil Palm processing unit in Arunachal radishh.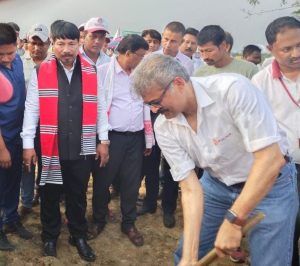 The ceremonial plantation of Oil Palm under NMEO-OP marks a significant milestone in North East's agricultural development and will have a lasting positive impact on the region.
About 3F Oil Palm
3F Oil Palm was the first company to begin Oil Palm plantation and development activities under a pilot project in 1993. Headquartered in Hyderabad, 3F Oil Palm is deeply involved in the integrated Oil Palm development project – from nursery activities to development of oil palm plantations (through contract farming), farmer services, extraction of crude palm oil, refining, power generation, etc. The company has contract plantations across Andhra Pradesh, Karnataka, Assam, Chhattisgarh, Gujarat and Arunachal Pradesh. 3F Oil Palm is the only company in India to have an end-to-end supply chain from seed to sapling, to plantation, to crude oil, to refined branded Palm Oil. The total Palm area is around 55,000 hectares with 5 processing units across India.